Cardinal Concrete's community involvement focuses on three key pillars: health & wellness, youth sports, and outdoor & trail enhancement. We also look for initiatives, organizations, and events that align with our core values of Finding Solutions, Working Together, and Building Communities.
Below are some of the initiatives and events that Cardinal Concrete has supported over the years.
Spearhead Huts Project – Kees and Claire Hut
Cardinal Concrete took flight as concrete was flown by helicopter to build the "Kees and Claire Memorial Hut" – the first of three huts that are being built by the Spearhead Huts Society. The huts will be located near Whistler, along the popular Spearhead Traverse in Garibaldi Provincial Park. When complete, they will offer the first hut-to-hut experience on the West Coast. Three sites have been chosen, so that travel time between the huts is fairly equal and the huts are accessible without having to cross a glacier in summer. Each location will offer dramatic views and excellent recreation opportunities in both winter and summer.
Squamish Eagle Watch Program
The Eagle Watch Volunteer Interpretive Program was established in 1995 as part of the Nature Conservancy of Canada's Eagles of Brackendale project. There are unlimited volunteer opportunities and this program is a great way to learn more about bald eagles! Volunteer interpreters share their knowledge and love of bald eagles with people from around the world. The Eagle Watch program runs from late November through January.
Centrepoint Squamish
Cardinal Concrete has joined Sea to Sky Community Services (SSCS) in its efforts to build a downtown community services hub by making a $50,000 donation to the Centrepoint project. Centrepoint is a partnership with Squamish United Church. It is to include community rooms, a preschool, programming rooms for a wide range of social services, a floor of affordable housing and office spaces.
Howe Sound Minor Ball Association
Howe Sound Minor Ball Association is a non-profit, volunteer based organization that provides an opportunity for the youth in our community to play baseball and softball. Sponsorship dollars fund such things as jersey/uniform purchase and maintenance, equipment purchase and repair, indoor spring training, coach and player clinics, umpires, insurance and awards.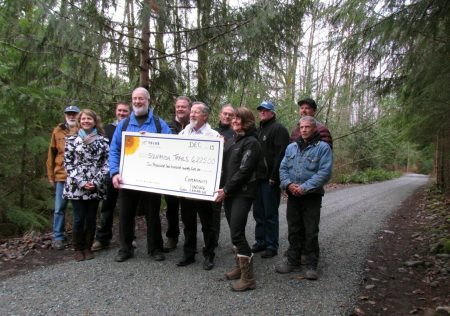 Squamish Trails Society
Cardinal Concrete and affiliated company, Coast Aggregates, have been very supportive through the donation of materials and equipment to assist in building the growing network of trails in the Squamish Valley.